"Big Mac and Fries" was featured on the cover of McDonald's May newsletter in the Coachella Valley and Upland/Redlands area. Distribution- 150,000 copies. SOLD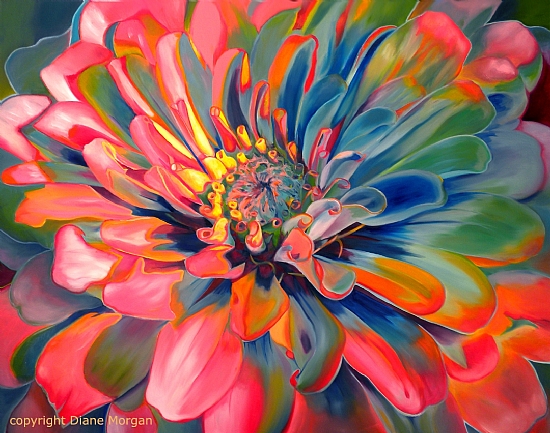 Fresh off the easel. "Just Glorious" oil on canvas 48"x 60" premiered at the Indian Wells Arts Festival April 1,2,3. It will be published on the cover of the latest OvationTV "Anthology of Friends" Volume 11....available soon at http://www.blurb.com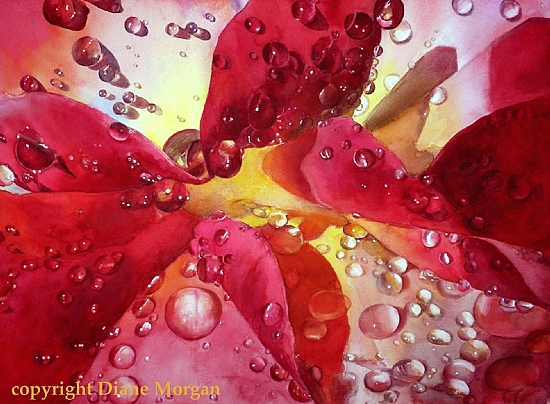 "Raindrops on Roses" watercolor, 21" x 29" was selected for the Blossom II Art of Flowers exhibition premiering at Florida's Naples Museum of Art February-April 10. Approximately 100 paintings were chosen out of 2300 entries from 35 countries. The show continues on National Tour....... April 30-June 26, Arizona, Sonora Desert Museum, Tucson, AZ........ July 12 -October 16, R.W. Norton Art Gallery, Shreveport, LA........ Nov 5- Dec 31 Garfield Park Conservatory, Chicago, IL....... Jan 18- Feb 20, 2012 Art Center Manatee, Bradenton, FL. March 19-May20, 2012 Greenacres Arts Center, Cincinnati, OH....... June10 - July 22, 2012 Museum of the Gulf Coast, Port Arthur, TX.
It has also been selected for publication in the newest f+w publications best- of -watercolor series "Splash 13: Alternative Approaches" which will be available in all major bookstores this summer.

Check out master watercolor artist Chris Beck's blog for a feature on my car paintings. http://www.brush-paper-water.blogspot.com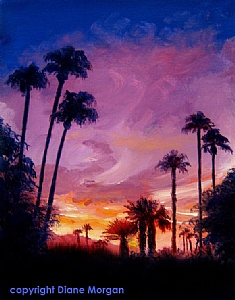 "California Sunset" oil was chosen for the cover of the 2010-11 Desert Symphony program. First symphony is November 18th at the McCallum Theatre in Palm Desert, CA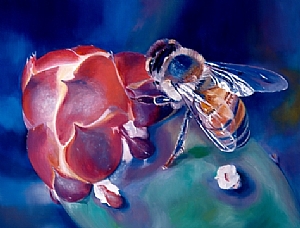 "Joshua Tree Bee" 24" x 30" oil on canvas is on exhibit with the Oil Painters of America Society at Mountain Trails Gallery in Jackson, Wyoming October 9 - November 10, 2010. See my work and a complete story about the show in the November issue of American Art Collector magazine
Watercolor Workshops at IncredibleArtist.com Gallery in Cathedral City, CA
I will be teaching a workshop on November 12th 1:00-4:00.
Go to http://www.IncredibleArtist.com for info. Or, contact me at DianeM1111@aol.com 760-902-8855


May 5th 7PM Cloris Leachman signs her New York Tmes best-selling autobiography "Cloris" at IncredibleArtist.com gallery. It's sure to be an incredibly fun evening. www.IncredibleArtist.com for info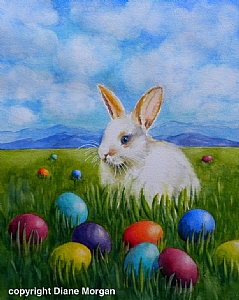 Easter Weekend. Friday, Saturday, Sunday April 2, 3 and 4 Indian Wells Arts Festival at the beautiful Tennis Garden in Indian Wells, CA. Juried show with 200 wonderful artists including ME in a beautiful treed, panoramic mountain-view setting. "Eggs in the Garden" watercolor is the art commissioned for the Sunday Brunch menu and promo. Lots of great art, music, food and perfomances. Great way to spend the weekend.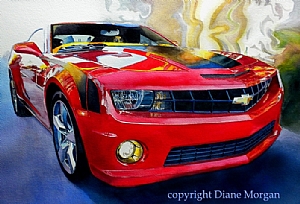 March 27th 6-10pm Unveiling of the new "Hot as a Heartbeat" (Camaro) watercolor at the special "Naked Art Party" at IncredibleArtist.com gallery. New location in the Cathedral City Civic Center complex just around the corner from the Mary Pickford Theater.....at the East end of the complex opposite end from the IMAX.
Diane Morgan exhibiting in three shows opening the week of Dec 1st and teaching a workshop at the Palm Springs Museum.
Coachella Valley Watercolor Society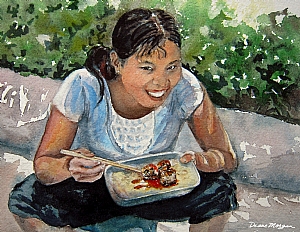 December 1-13 Reception Saturday, Dec 5th 1-4PM The Small Image Show at Historical Society of Palm Desert 72-861 El Paseo (west of Hwy 74)
Regular gallery hours: 10 a.m. to 3 p.m. daily through Dec. 13
Information: (760) 346-6588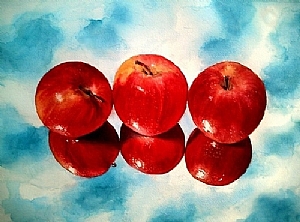 December 3 – January 24 Reception Mon, Dec 7th 5:30-7:30PM City of Palm Desert Community Gallery watercolor show at Palm Desert Visitors Center 72-567 Highway 111
Regular gallery hours: 9 a.m. to 5 p.m. daily, through Jan. 24. Closed major holidays. Information: (760) 568-1441 Use the link to go to The Desert Sun's news article of 11/30/09 about the exhibitions www.mydesert.com
Palm Springs Museum Exhibition and Workshops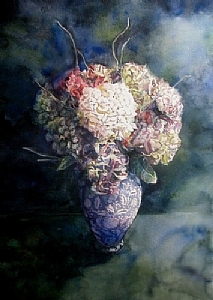 December 3 – 20 Artist Council Workshop Faculty Exhibition Palm Springs Museum Main Floor,in Zone 101 in the Hoover Gallery. Exhibition opens on Thursday, December 3, at 5 p.m. runs through December 20.
December 6th Special Mini Workshops for only $25, supplies included.Diane Morgan will be teaching a watercolor still life workshop from 1:00 – 4:30PM on Sunday December 6 This Artists Council "Workshop Fair" offers a great chance to try a workshop without a major commitment. For any skill level, beginners welcome.Other workshops…watercolor, acrylic and printmaking available morning and afternoon. Contact Gary Paterson, Artists Council Coordinator for more information or to make a reservation 760.322.4850 Palm Springs Art Museum 101 Museum Drive Palm Springs, CA 92262
"Sunny Flowers" is on display at Starbucks El Paseo, Palm Desert, CA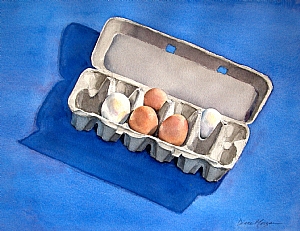 "Diversity" was on display at the Palm Desert Library Summer 2009
as part of the Coachella Valley Watercolor Society ongoing exhibit.

Incredible Acura Art Event June 27, 2009
Acura of the Desert and IncredibleArtist.com combined art and automobiles to benefit the Boys & Girls Club of Cathedral City. Presenting the new 2010 Acura TSX and watercolor by Diane Morgan called "Highway to Heaven" (Acura TXS)

California State Capitol, Sacramento. May 2009-September 2010.
"Bird in Paradise" was selected and has flown to Sacramento to represent the 37th District in the ninth annual California State Senate Biannual CA Contemporary Art Collection exhibit. Exhibit runs from May 2009 until September 2010.
This art was also the poster are for the 2009 Indian Wells Arts Festival at the Tennis Garden, Indian Wells, CA. Posters are available for $30 on my website in the watercolor section. See "Indian Wells Arts Festival Poster. "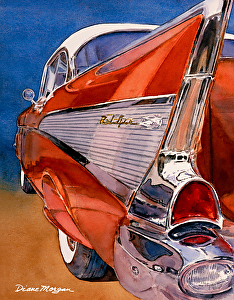 "Heaven is a '57"
Exhibition July 10- August 7, 2009
University of Michigan School of Art & Design 3rd Annual A & D Alumni Show. Opening reception July 17th 6-8 pm, Slusser Gallery 2000 Bonisteel Blvd, Ann Arbor, Michigan

"Melon Reflections"
Rancho Mirage Library
Jan 5 - Feb 28, 2009


"Moooonlight" 3rd Place "Heaven is a '57" Second in Show
These two award-winning watercolors were on display at the Annual City of Palm Springs Artshow. This year's show was at the Palm Springs Library, 300 S Sunrise Way January 2 - 30, 2009.


"Bird in Paradise" IWAF Poster
Exhibiting every year at the Indian Wells Arts Festival at the Tennis Garden in Indian Wells California, Diane Morgan has been selected as the poster artist for the April 2009 Festival. The original watercolor along with posters will be for sale at the Festival April, 3rd, 4th and 5th, 2009.
Go to www.IndianWellsArtsFestival.com for more info.

Coachella Valley Watercolor Society 2008-2009 rotating exhibit displayed in the lobby of the Hyatt Grand Champions Resort, Spa & Villas in Indian Wells. Paintings honor the Hyatt's newly opened gourmet restaurant "Lantana".

Diane's paintings will be on display at: the Hyatt Regency Suites Palm Springs when remodel completed
and are on permanent display the Premiere Oncology Center in Santa Monica as part of the Art4aCure cancer research benefit

www.Art4aCure.com ONLINE SILENT AUCTIONS
Made possible through the generosity of so many businesses that donated incredible gifts and services, as well as artists who donated an eclectic collection of art, photography, pottery and sculpture, all awaiting your bid at www.Art4aCure.com.




Recent Exhibitions.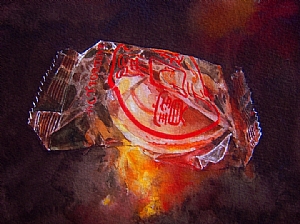 "How Fortunate" watercolor
won First Place at the 2008 Coachella Valley Watercolor Society small image show in Indio.




The Originals
April 17th - Wed May 7th 2008 Incredible Artists Diane Morgan, Christopher Dailey, Malcolm Doran, and Patrick Kelly were featured. IncredibleArtist.com 333 N. Palm Canyon, Palm Springs, CA
"The Originals" featured new and original artwork by six of the Desert's most Incredible and talented artists:
Vernon Finney - The Master Painter whose stunning images range from the poetic to the surreal.
Diane Morgan - The award-winning watercolorist famous for her beautiful and detailed still life paintings, and now her series of miniature oil paintings.
Christopher Dailey - The Desert's most talented young artist, his work can be found around the world.
Patrick Kelly – His beautiful paintings of Palm Springs are nostalgic glimpses into the past.
Malcolm Doran - His gorgeous female portraits and still life paintings take inspiration from the Great Masters.
TAG - One of the hottest new artists on the local art scene, famous for her "Kiss" series painted with her own lips.



Coachella Valley Watercolor Society Special Exhibit at the Rancho Mirage Library. March 10- May 30, 2008.



Two of Morgan's pieces were sold at the joint fund-raiser for the Palm Springs Library and the Palm Springs Art Museum. The artwork was on display at the library and museum beginning April 13th, 2008. A silent auction was conducted Saturday, May 10th 11:00AM - 4:00PM at the Museum. Winning bids were announced at 4:30PM. For more information contact Robert Brasier at the Museum www.psmuseum.org


Indian Wells Art Festival at the Indian Wells Tennis Gardens, April 4th, 5th and 6th, 2008 http://www.IndianWellsArtsFestival.com The 2009 Festival will be April 3rd, 4th, and 5th.

Coachella Valley Watercolor Society Small Image Show at the Coachella Valley Museum and Cultural Center in Indio. October - Dec. 30, 2007 Awarded two honorable mention ribbons.
Rancho Mirage Library special show "Translate" Nov 1 - Dec 31, 2007
Palm Desert Library Coachella Valley Watercolor Society special exhibit Nov 2007 - Jan 30 2008

City of Palm Springs 10th Annual Juried Show at City Hall Jan14- Feb 29, 2008 Awarded 1st Place for Best Watercolor
Diane's work was featured in Desert Art Scene Magazine. As winner of the Coachella Valley Watercolor Society's 2007 Best of Show Diane is featured in a full-page ad in the magazine currently available at all Coachella Valley top major hotels, Chamber of Commerce offices and local art galleries.
Three of Diane's watercolors were awarded ribbons at the Riverside County Fair and National Date Festival February 15- 24, 2008.

Coachella Valley Watercolor Society 19th Annual Show. March 1 and 2, 2008. Palm Desert Community Center,
43900 San Pablo, Palm Desert, CA

"Heart of the Matter" watercolor was selected for inclusion in the Palm Springs Art Museum's 2008 Annual Artists Council member juried exhibition and auction Jan 29 - March 9, 2008. As a fund-raiser for the Museum all work was for sale via silent and live auction with celebrity auctioneers Tony and Karen Barone. www.psmuseum.org/auction/index.php